Dog & Owner Education
A well-behaved pet is happier, healthier, more fun to live with, and lives longer. From rambunctious puppies to territorial older cats, our staff can help guide you through the best techniques for resolving, improving or managing bad pet behaviors. Contact us for one-on-one counseling on your pet's challenging habits and for ongoing new puppy classes.
Our Animal Behavior & Training Team
Yigal Ben-Aderet
Has a Master's degree in animal behavior and is also a registered veterinary technician. Currently, he oversees our training and behavior programs, through which he has helped countless owners resolve serious behavior problems.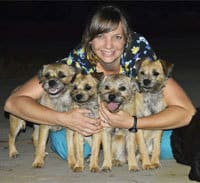 Manuela Mitchell
Grew up in Ramona. She has been training dogs and working in the veterinary field since 2002, and conducting puppy training and socialization classes for us since 2004. In addition to attending behavioral training seminars and being a registered veterinary technician, she is pursuing special certification in behavior as an RVT. She is currently an active exhibitor in AKC sanctioned trials with her own Border Terriers.
Puppy Classes (four sessions) by Manuela Mitchell, R.V.T.
Please call 760-788-6250 for the next session.